An Overview of  CCC Croppings for Harvest 2018
Each year it is always interesting to see how cropping areas across the UK change. With a different climate and topography to a lot of the UK, it's always useful to see how the cropping of CCC members in the south of England compares with that of the rest of the UK. Market value, climate, weed control, harvest management and legislation have all influenced crop choices in the UK, and 2017 proved to be no different. The initial results of the Early Bird Survey give a good idea of trends across the UK, and its always interesting to see if these findings correlate with with our own members.
A Decline in 2nd Wheat
Over the last 4 years across the UK the winter wheat cropping area has shown a very slight downward trend, and that has proved no different this year. A wet summer made it a challenge for many farmers in the south to harvest milling wheat before a loss in grain quality and with an increasing black grass pressure, it is no surprise to see that the wheat area hasn't changed significantly. Within CCC, the percentage area of 1st wheats showed no change. However the dry spring last year saw take-all effect many second wheats, therefore many farms have reduced the area of second wheats in favour of an alternative break crops.
Big Increases for OSR and Spring Barley
Since the banning of Neonicotinoids in flowering crops in 2012, it was no surprise to see the area of oilseed rape decline significantly due to an increase in pressure of flea beetle. With the price of oilseed rape hitting over £300/t again, it has seen an increase in popularity as a break crop with the UK seeing a 9% increase. However, this is still predicted to be 18% lower than the record 2012 area of 642 thousand hectares. Within CCC the area never declined as drastically as parts of the UK, however this year has seen a huge 16% increase in oilseed rape area within the group. It is important to remind many farmers of the risk of growing rape too close in the rotation with verticillium wilt, club root and a reduction in yield potential all effecting gross margins.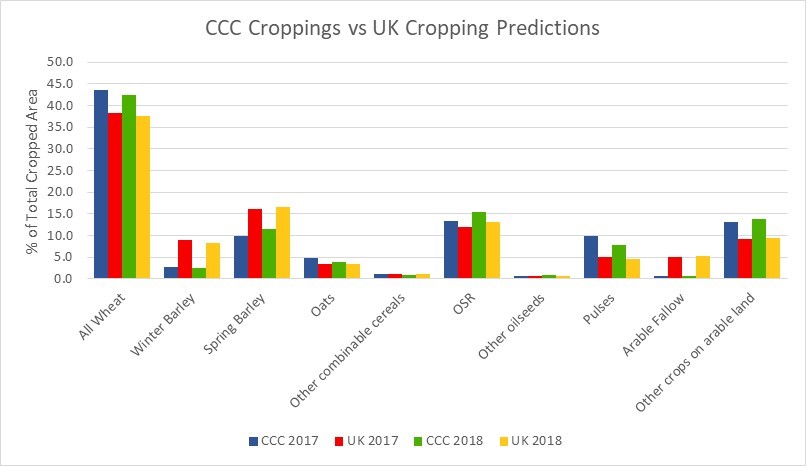 Across the UK, winter barley is expected to see a 9% decline in cropping area, and a similar trend can be found with our members seeing a 6.5% decline. However, where winter barley has seen a decline, spring barley has seen a rise of 15% with CCC members for 2018. This is likely to be due to a combination of malting contracts offering higher returns, as well as being a competitive spring crop in the fight against black grass. If the current UK area of barley continues to grow, it is expected that the UK will soon be matching the area of barley grown in the 80's. Brexit could potentially influence this market drastically however, and the export market may take a knock in the coming years.
A decline for Oats and Pulses
With limiting grassweed herbicide options in oats, it is no surprise to see the oat area decline again. However, spring oats can offer a competitive margin and are an entry to wheat so it is surprising to see the CCC area drop so significantly compared to the rest of the UK. Despite the decline, the overall average oat acreage within CCC is still above national average. It would appear though that many farmers are now looking at other oilseed crops such as linseed as an alternative to oats. It is worth noting that the large percentage increase within the group is only due to such a small area of linseed being grown in 2017 with the total linseed area still pretty small overall.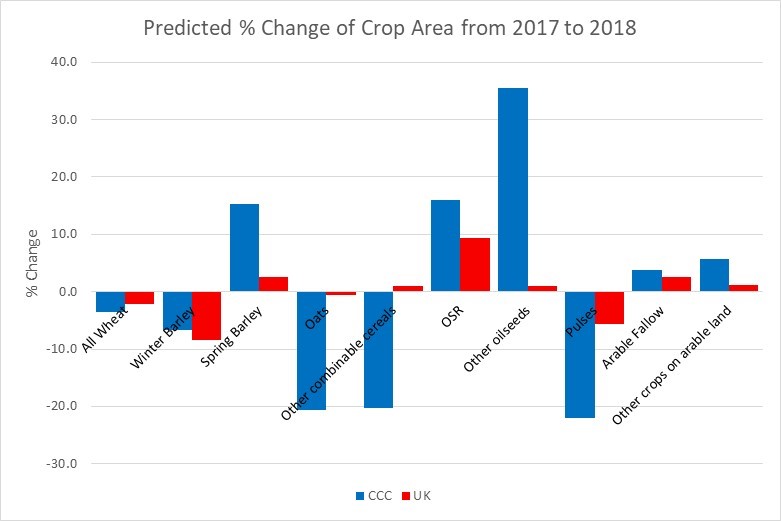 Unsurprisingly there is predicted to be a big drop off in pulse acreage within CCC this year. A combination of a wet summer, as well as poor prices and the change in EFA rules banning the use of PPPs on pulses has meant many farms have turned to alternative crops. A reduction of 22% is predicted within CCC this spring, however across the rest of the UK it is predicted to only decline by 6%. This will see the gains made in cropping area over the last couple of years lost, which may see prices begin to rise again making it more of a competitive crop in its own right. It is worth noting that despite the big reduction, pulses will make up 7.7% of CCC's total area compared to the national average of 4.7%, so despite the reduction they are still a big crop within the group.
Alternative Options
Overall it is unsurprising to see the likes of spring barley and oilseed rape increase in area, however with the combination of Brexit and volatile markets, farmers should remain cautious. It is no surprise to see the pulse acreage see a reduction, however the large reduction in oats came as a bit of a surprise. With a slight increase in "Other crops on arable land" many farms have taken to including crops such as maize, AD rye, potatoes and lettuces in the rotations to aim to produce profitable break crops. Options like fallowing have increased where black grass pressures are high, but again with the change in EFA rules this may also see a decline in the future if they can not be managed. You can find out more about the latest EFA rules by clicking the link below.